Sigma (plunger type)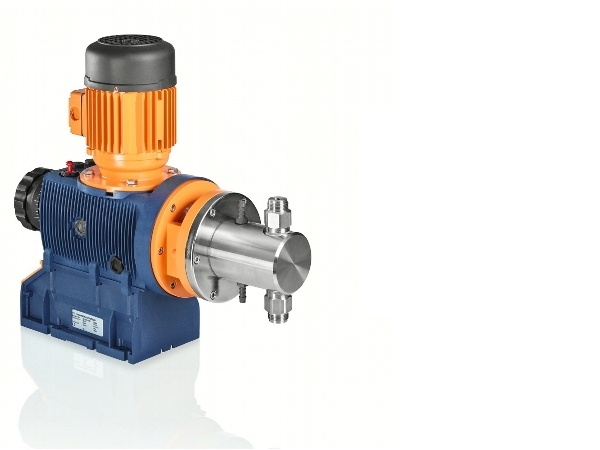 ✔ Motor-driven plunger-type metering pump ideal for injecting metering solutions into high-pressure environments
✔ Discharge reproduction accuracy ± 1% with stroke length adjustment range of 10 to 100%
✔ Lineup of control types with built-in inverter and various controls
Features
● Motor-driven plunger-type metering pump suitable for injecting minute chemicals into high-pressure lines (maximum 32.0 MPa)
● A lineup of two types, a control type that supports various control functions and a basic type that has a single function.
Use
● Boiler chemical injection (separate cans, additives, etc.)
● High-pressure microchemical injection into chemical processes
Specification
Wetting part (common)
● Stainless steel head (SUS316L) and ceramic plunger with excellent chemical resistance
● Has a flushing path to prevent damage to the sealing surface due to solidification of the chemical solution.
● Stroke length [manual] can be finely adjusted in 0.2% increments, achieving high discharge accuracy within ± 1% F.S. [stroke length 10 to 100% range]
External interlocking operation (control type only)
<Pulse mode>
Supports standard (1: 1), frequency division (1: N), and magnification (N: 1).
N: 0.01-99.9 When combined with a pulse transmission type flow meter, proportional injection of chemicals is possible.
<Analog mode>
Proportional control of the number of strokes according to 0 / 4-20mA DC from the outside.
<Batch mode>
A specified amount (number of strokes) can be injected by the main body button or an external signal to automatically stop.
<Remote On / Off>
The pump can be turned on and off by inputting contacts from the outside.
Other functions
<External output relay (optional)>
It is possible to output an alarm signal and a paging signal for each stroke.
<Power supply>
Control type: 100-230VAC ± 10% 50 / 60Hz
Basic type conforms to the mounted motor
<Protective structure>
IP55 (Avoid direct sunlight, wind and rain when installing)
<Installation environment>
Non-explosion-proof area
Model specifications
Series

Model

Material
model
Maximum
discharge
pressure
50Hz
60Hz
Inhalation
Lift
Connection
diameter
Maximum
discharge rate


[L/H]

Maximum
discharge rate


[m

l

/min]

Number of
strokes


[spm]

Maximum
discharge
rate


[L/H]

Maximum
discharge
rate


[m

l

/min]

Number of
strokes


[spm]

Rp female
screw
[MPa]
[m]
SBKa
32002
SST
32.0
1.90
31.7
71
2.30
38.3
84
5
1/4
23004
23.0
4.00
66.7
129
4.80
80.0
154
5
10006
10.0
6.40
106.7
195
7.60
126.7
233
5
14006
14.0
6.10
101.7
71
7.10
118.3
84
4
10011
10.0
11.00
183.3
129
13.10
218.3
153
4
05016
5.0
16.70
278.3
195
20.00
333.3
233
4
07012
7.0
12.40
206.7
71
14.80
246.7
85
4
04522
4.5
22.50
375.0
129
26.70
445.0
153
4
02534
2.5
34.10
568.3
195
40.80
680.0
233
4
04022
4.0
22.40
373.3
71
26.50
441.7
84
4
3/8
02541
2.5
41.50
691.7
129
49.20
820.0
153
4
01264
1.2
64.00
1066.7
195
76.00
1266.7
233
4
Series

Model

Material
model
Maximum
discharge
pressure
50Hz/60Hz

Common

Inhalation
Lift
Connection
diameter
Maximum
discharge
rate


[L/H]

Maximum
discharge
rate


[m

l

/min]

Number of
strokes


[spm]

Rp female
screw
[MPa]
[m]
SCKa
32002
SST
32.0
2.30
38.3
84
5
1/4
23004
23.0
4.80
80.0
154
5
10006
10.0
7.60
126.7
233
5
14006
14.0
7.10
118.3
84
4
10011
10.0
13.10
218.3
153
4
05016
5.0
20.00
333.3
233
4
07012
7.0
14.80
246.7
85
4
04522
4.5
26.70
445.0
153
4
02534
2.5
40.80
680.0
233
4
04022
4.0
26.50
441.7
84
4
3/8
02541
2.5
49.20
820.0
153
4
01264
1.2
65.40
1090.0
200
4
Wetting part specifications
| Name | Pump head | Connector | Sticker | Plunger | Check ball |
| --- | --- | --- | --- | --- | --- |
| SST | SUS316L | SUS316L | PTFE + 25% carbon | Ceramic | SUS316L |
Head Office
1-12-11 Tagawakita, Yodogawa-ku,Osaka
532-0021
Overseas Business Department
TEL +81-6-6301-6460
FAX +81-6-6308-3022