CM-W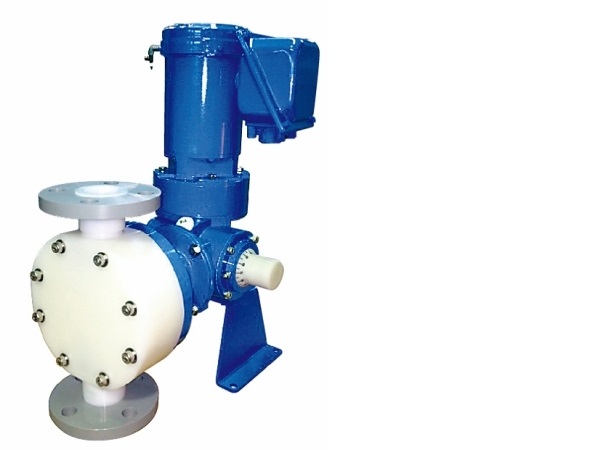 ✔ Low-pressure medium-capacity metering pump of Tohkemy
✔ Power source specification
✔ Possible to be equipped with a safety-increase explosion-proof motor, a pressure and explosion-proof motor
✔ Air chamber as a standard accessory (CM-500/1000/1500W)

Features
Low-pressure medium-capacity metering pump of Tohkemy
This pump is suitable for large-capacity metering at low pressure (0.3MPa or lower).
It is possible to dose 10L/min (by CM-1000W) with 0.2kW motor which is used for CM-G series.
Power supply specifications
●  Various power source motors lined up as standard and semi-standard.
・200V  ・220V  ・380V  ・400V  ・415V  ・420V  ・440V
● Totally-enclosed fan-cooled (TEFC) outdoor flange type motor.
Possible to be equipped with a safety-increase explosion-proof motor, a pressure and explosion-proof motor
The pump can be equipped with a safety-increase explosion-proof, a pressure and explosion-proof motor of designated manufacturer, to be used in dangerous condition without anxiety. In addition, when controlling the pump discharge rate by use of invertor, the pump can be easily equipped with an exclusive invertor motor.
Air chamber as a standard accessory (CM-500/1000/1500W)
Air chamber is a standard accessory for CM-500/1000/1500W.
Install the air chamber at the top end of straight discharge piping of pump.
Specification
CM-100W / 200W type
CM-500W / 1000W / 1500W type
low pressure
Small capacity
The basic form of a metering pump. Simple structure pump
A wide range of accessories can be used to connect flanges _and hoses.
low pressure
Medium capacity
The special drive cam _and newly designed wetted parts reduce the drive resistance _and increase the discharge rate compared to the conventional model.
Model
Discharge
rate(mL/min)
At 0.1MPaG
Max. discharge
rate at the
max. discharge
pressure
(ml/min)
Max.
discharge
pressure
(MPaG)
Head diameter /
Diaphragm
diameter
(mm)
Stroke frequency
(spm)
/ Reduction ratio
Max. stroke
length
(mm)
Piping
specification
Motor
(kW)
Weight
(kg)
60Hz
50Hz
60Hz
50Hz
60Hz
50Hz
CM-100W
280-1400
230-1160
1200
1000
0.5
φ130/
φ100
89/1:19
73/1:19
3
20A
Union
Three 0.2
about 17
CM-200W
530-2650
440-2200
2400
2000
170/1:10
140/1:10
CM-500W
1320-6600
1100-5500
6000
5000
0.3
φ195/
φ150
154/1:11
127/1:11
3.9
25A
Flange
about 27
CM-1000W
2400-12000
2000-10000
2400-12000
2000-10000
7.2
40A
Flange
CM-1500W
3600-18000
3000-15000
3600-18000
3000-15000
10.5
Three 0.4
about 29
● The discharge rate was calculated at discharge pressure of 0.1MPaG, suction head of -0.01MPaAq equivalent to the same pipe diameter as in the pump; and normal temperature using clear water.
●When your pump is of the standard specification, use it in the ambient temperature range of 0-40℃, the liquid temperature range of 0-50℃ and about 0.06MPa Abs. of NPSH req.
●A connection flange and coupling set is additionally required to install the specified motor, which is not standard, in CM-100/200W.
Common specifications
Connection
100/200W
20A PVC union
500W
25A JIS 10K flange
1000/1500W
40A JIS 10K flange
Motor
Standard
Three-phase, 4P, class E, 60Hz (200/220V), 50Hz (200V), TEFC outdoor flange type
Semi-standard
Three-phase, 4P, class E, 60Hz (380/400/440V), 50Hz (380/400/415/420V), TEFC outdoor flange type
Safety-increase explosion-proof type, pressure and_ explosion-proof type, inverter motor, etc.
Reducer
Worm reduction gear, lubricated with viscosity 220mm2/s worm gear oil is recommended.
Standard accessories
Simple tools 1 set, Pump mounting bolts M8 x 30L and_ nuts(w/washers),Air chamber(except for CM-100/200W)
Color
Munsell 2.5PB 2.5/7 for reducer, Munsell N7 for motor
Liquid-end parts specifications
Part name/Combination
PPFC
PPEC
PPF4
PPE4
VVFC
Applicable chemicals
Hydrochloric acid, Sulfuric acid,
PAC,35% or_ lower Hydrogen
peroxide, Ferric chloride
Sodium hydroxide,
Ammonia water
Polymer flocculants
(fluid-undiluted, fluiddiluted solution)
Others, Viscous fluid
Polymer flocculants
(powder-diluted solution) Others,
Viscous fluid
Sodium hypochlorite, Other strong acids
Pump head
PP
PVC
Diaphragm
PTFE
Connector
PP
PVC
Valve guide
PP
PVC
Valve seat
FKM
EPDM
FKM
EPDM
FKM
Check ball
Ceramics
SUS304
Ceramics
O-ring
Aflas®
*Since chemical resistance of material varies according to temperature and_ concentration of fluid, the above applicable chemicals are basic examples. It is possible to combine different materials.
*It is not suitable for transferring fluid containing slurry. *Aflas® is a registered trademark of AGC Inc.
Viscosity of fluid
Refer to the chart below for transferring high-viscous fluid such as Polymer flocculants.
Model/Combination
Viscosity
Liquid-end parts combination
CM-100W
CM-200W
1000mPa
・s max
PPF4/PPE4
CM-500W
CM-1000W
CM-1500W
Pump Dimensions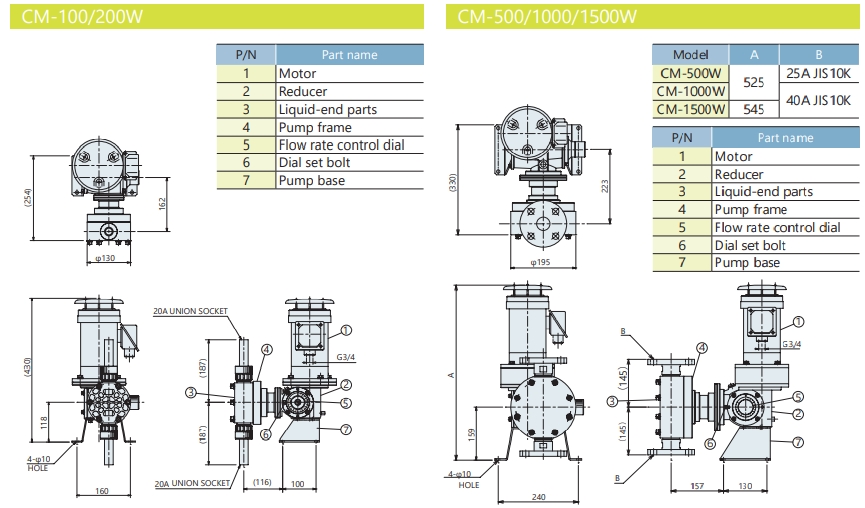 Liquid-end parts construction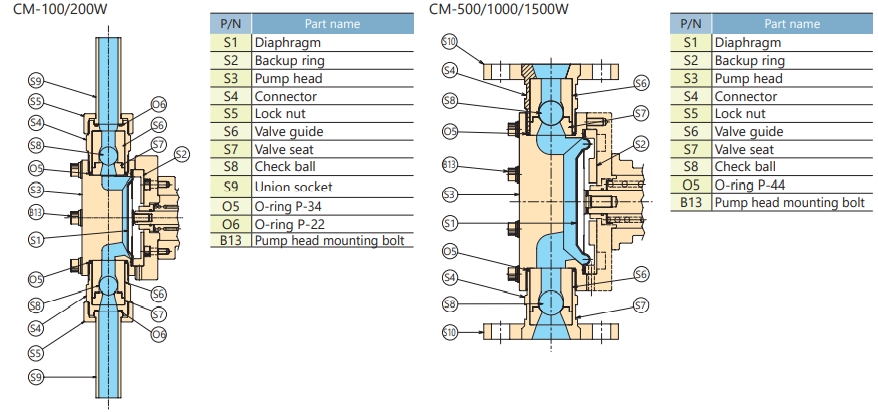 Head Office
1-12-11 Tagawakita, Yodogawa-ku,Osaka
532-0021
Overseas Business Department
TEL +81-6-6301-6460
FAX +81-6-6308-3022