Carbon dioxide method (CPC type)
Carbon dioxide method (CPC type)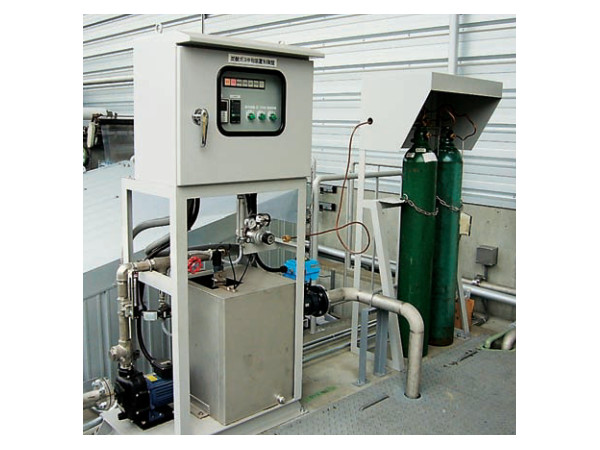 * Space-saving design with a residence time of 1 minute in the tank
* Neutralizer is carbon dioxide (CO2) and easy to handle
* Optimal neutralization by PID control
Features
● Space-saving design with a residence time of 1 minute in the tank
● The neutralizer is carbon dioxide [CO2], which makes it easy to handle _and does not increase the salt concentration.
● Optimal neutralization by PID control
The carbon dioxide pH neutralizer is a type that continuously neutralizes _and discharges raw water like the TPC type, _and uses carbon dioxide as a neutralizer. Since carbon dioxide has a quick neutralization reaction _and is easily mixed, the residence time in the neutralization tank can be reduced _and the installation area can be reduced. If the remaining amount of gas decreases, it will be replaced for each cylinder, so maintenance is easier than handling chemicals. Also, even if carbon dioxide gas is injected excessively, the pH will _drop only about 5, so unlike chemical injection, it is possible to prevent excessive pH value excess. It is suitable when you do not want to neutralize with chemicals such as alkaline drinking water. The standard of treatment is about pH 7 to 11.5 *.
In addition to standard specifications, we also accept customization according to your needs.
* Neutralization of pH value may require excessive injection due to factors that inhibit the reaction of chemicals, so the treatable pH value is a guide.
Use
For drinking water / boiler blow water / factory wastewater
specification
| format | processing power | Neutralization tank capacity | Cylinder rack | Approximate dimensions (mm) | * Equipment mass (kg) | Operating mass (kg) |
| --- | --- | --- | --- | --- | --- | --- |
| CPC-03 | 3m3/hr | PVC 50L | With 2 racks | 950W×400L×1600H | about 180 | about 230 |
| CPC-06 | 6m3/hr | PVC 100L | With 2 racks | 950W×480L×1700H | about 200 | about 300 |
* Cylinder rack is not included in the device mass.
Processing flow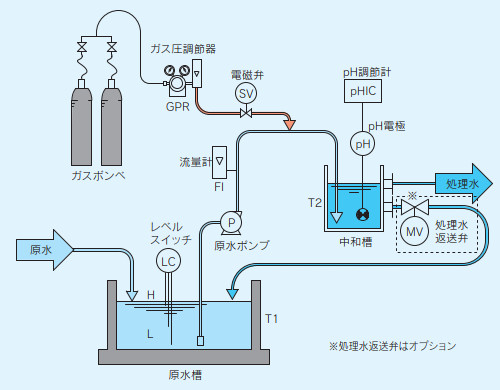 Head Office
1-12-11 Tagawakita, Yodogawa-ku,Osaka
532-0021
Overseas Business Department
TEL +81-6-6301-6460
FAX +81-6-6308-3022