DulcoMeter Dialog (DACb)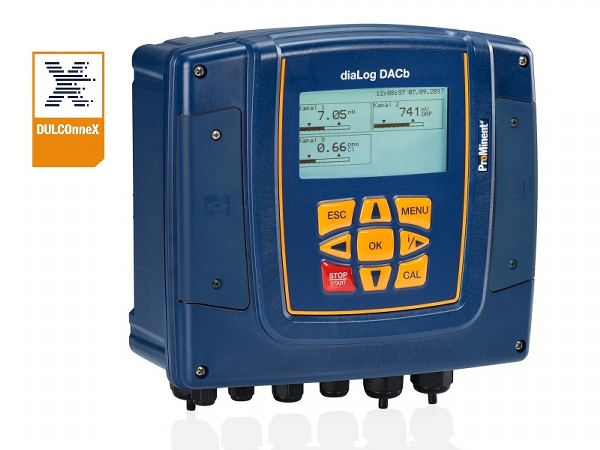 ✔ Simultaneous measurement 3 items enable water quality indication and drug injection control in all industries
✔ P / PID compatible for chemical injection pump, and feedforward control is also possible
✔ Various control outputs (pulse signal, time division relay, analog signal, etc.)
✔ 20 years worth of measurement data can be recorded on the SD card
✔ Can be linked with external devices using Ethernet (LAN) / Modbus
Features
● Dalkometer Dialog DAC is a multimeter that can simultaneously measure and control any 3 types of sensors from all 12 types of prominent sensors such as pH / ORP, residual chlorine, chlorine dioxide, peracetic acid, hydrogen peroxide, etc.
● It has a data log function to the SD card, and one unit can perform the three functions of measurement, control, and recording. In addition, when the residual chlorine sensor and pH sensor are combined, the correction display based on the pH value of residual chlorine is supported.
● Regarding chemical injection control, in addition to the conventional P / PID pulse control, time division control, and analog control, a feedforward control function and a target value change function from a remote location can be obtained by inputting 4 to 20 mA DC from a flow meter of another company. Is also installed.
Use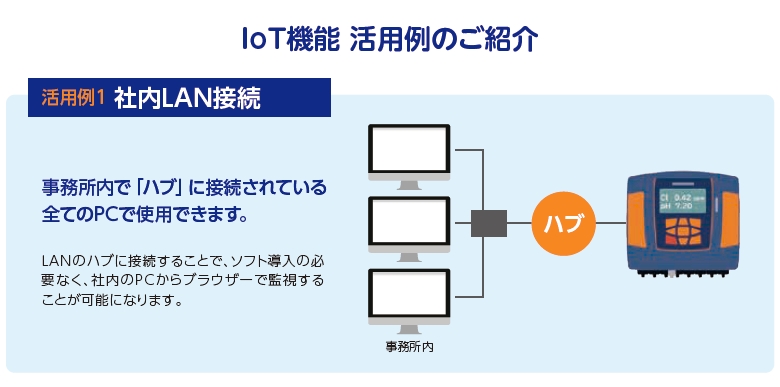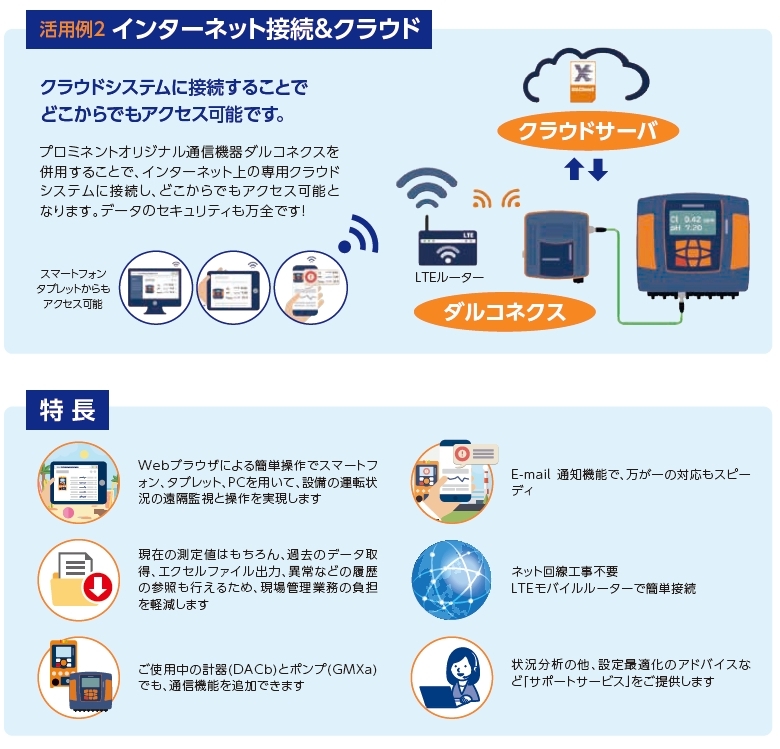 specification
Type
DAC wall-mounted type
Measurement item
(3 items can be selected arbitrarily)
pH, ORP, residual chlorine, total chlorine, chlorine dioxide, hypobromine, peracetic acid, hydrogen peroxide, dissolved oxygen, fluoride ions, ozone, turbidity, (conductivity)
control method
P / PID control Bidirectional control (measured value rise & fall), feedforward control
Output specifications
・Pulse output: Pulse output for prominent pump x 4
・Analog output: 4-20mA DC load resistance 450Ω, insulation output x 3 (select from measured value, correction value, control value)
・Relay output: Upper and lower limit alarm output or time-division relay x 2 Instrument batch failure output x 1
Input specifications
・Sensor input terminal / temperature sensor connection terminal x maximum 3
・Control pause input x 2
Recording method
Save measurements, calibrations and errors in CSV format to SD card (up to 16G)
Power supply / power consumption
100-230VAC ± 10% 50 / 60Hz / 27W or less
Protection class
IP67(For indoor installation)
Ambient temperature / humidity
0-50 ℃ / 95% or less No condensation
Mass / size
2.1kg / W250×H220×D122(mm)
Flow diagram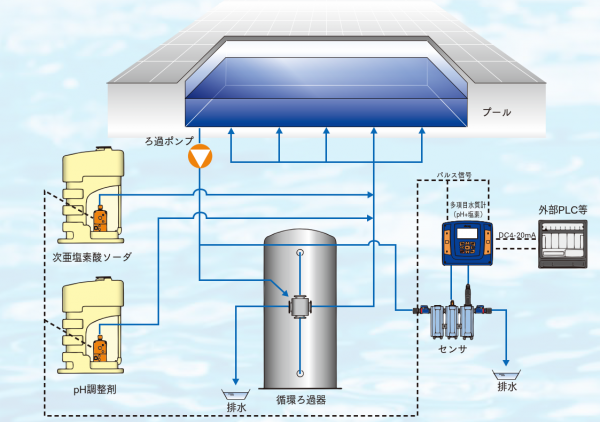 Head Office
1-12-11 Tagawakita, Yodogawa-ku,Osaka
532-0021
Overseas Business Department
TEL +81-6-6301-6460
FAX +81-6-6308-3022