Extronic (pressure resistant explosion-proof specification)
Extronic (pressure resistant explosion-proof specification)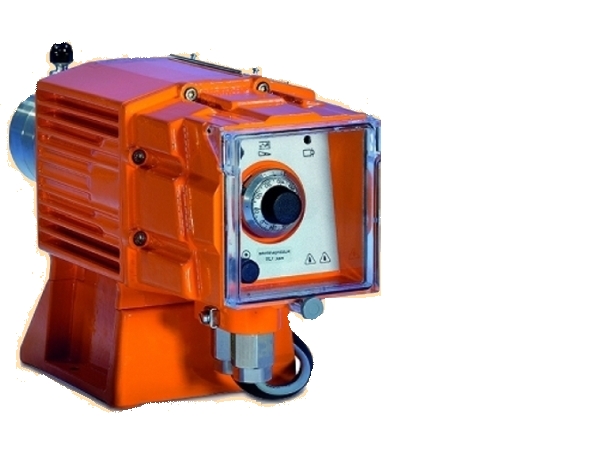 ✔ Explosion-proof standard electromagnetic drive pump
 ・ Pressure-resistant explosion-proof structure / IICT6
 ・ Test pass number TC18339
✔ Ideal for controlling drug injection in explosion-proof areas
✔ Model can be selected from 4 operation modes
 ・ External interlocking operation (remote ON / OFF)
 ・ Manual operation
 ・ Digital (pulse) operation
・ Analog input operation
Features
A pressure-resistant explosion-proof electromagnetically driven metering pump that can be used in explosion-proof areas.
It supports external pulse control and external analog signal (4 to 20mA DC) control, and is suitable for various processes including the gas and chemical industries.
Pressure-resistant explosion-proof structure: Obtained explosion-proof certification by the Industrial Safety Technology Association
(Certification number: TC18339 Explosion-proof grade and ignition degree: ExdⅡCT6)
Use
● Grout in explosion-proof areas
Injecting odorant into gas pipes
Injection of pH regulator
Injection of hypochlorite fungicide
● Injecting a small amount of volatile chemicals (ethanol, IPA, etc.)
● Research / development and trial production equipment (trace drug injection)
Specification
Discharge rate:0.027 – 1,000 mL/min
Discharge pressure:0.15 – 2.5 MPa
Discharge reproduction accuracy:±2% (Standard wetted parts, conditions recommended by the manufacturer)
Power supply specifications:Single-phase 100/200 VAC 50/60Hz
* Overseas power supply specifications are also available, please contact us.
Wetting part
<Air bleeding valve>
Manual air bleeding valve: Turn the knob by hand to bleed the air in the liquid part.
Automatic air bleeding valve: Automatically _and continuously bleeds air in the wetted parts.
<Connection diameter (depending on the quality of the wetted parts)>
Compatible with many hose diameters (4 x 6, 9 x 12, etc.), and can be connected to pipes and flanges.
<Diaphragm damage detection function>
Equipped with 2501SSM and 2051SBM to prevent troubles from chemicals due to diaphragm damage.
Drive part
<External signal operation>
Pulse signal operation: The number of strokes is controlled by a non-voltage pulse signal. (1 pulse = 1 stroke)
Analog signal operation: The number of strokes is proportionally controlled by an analog signal (0/4 to 20mA).
Remote On / Off operation: The pump is started _or stopped by a non-voltage contact signal.
<Outdoor usable structure>
Conforms to IEC standard IP65 (can be used outdoors) IP = International Protection
6: Perfect dustproof shape: Structure that prevents dust from entering inside
5: Jet-proof type: Structure that is not adversely affected by jets from any direction
Model specifications
Pump size
Maximum
discharge pressure
Maximum
discharge
rate
1 stroke
discharge
amount
Maximum
number
of strokes
Suction lift
Standard
connection diameter
(MPa)
(l/h)
(ml/min)
(ml/str)
(spm)
(Water column m)
(Inner diameter
x outer diameter mm)
1000
1.0
0.19
3.2
0.027
120
1.5
4×6
1601
1.6
1.0
16.7
0.14
120
6
4×6
1201
1.2
1.7
28.3
0.23
120
6
4×6
0803
0.8
3.7
61.7
0.51
120
3
4×6
1002
1.0
2.3
38.3
0.31
120
6
5×8
0308
0.3
8.6
143.3
1.20
120
6
5×8
1006
1.0
6
100.0
0.83
120
6
5×8
0613
0.6
13.1
218.3
1.59
120
6
5×8
1310
1.3
10.5
175.0
1.83
110
5.5
5×8
NP,PP4,SS,SB only
0814
0.8
14
233.3
2.12
110
6
9×12
0417
0.4
17.4
290
2.42
120
4.5
9×12
0430
0.4
27
450
4.09
110
5
DN10
0260
0.2
60
1,000
9.09
110
1.5
DN15
2501
2.5
1.14
19.0
0.15
120
6
4×6
SSM,SBM only
2502
2.5
2
33.3
0.28
120
6
5×8
SS,SB only
2505
2.5
4.2
70.0
0.64
110
6
5×8
SS,SB only
Wet contact material
Wetting part model
Pump head
Suction / injection valve
O-ring, seal
Valve ball
Standard connection
PP1
PP
PP
EPDM
Ceramic
Hose connection
PP4
PP
PP
EPDM
Ceramic
Hose connection
NP1
Acrylic
Acrylic
Viton A
Ceramic
Hose connection
NP3
Acrylic
Acrylic
Viton B
Ceramic
Hose connection
NS3
Acrylic
Acrylic
Viton B
Ceramic
Hose connection
PS3
PVC
PVC
PTFE
Ceramic
Hose connection
TT1
PTFE
PTFE
PTFE
Ceramic
Hose connection
SS1
SUS316
SUS316
PTFE
Ceramic(SUS316L)
SUS tube
SS2
SUS316
SUS316
PTFE
Ceramic(SUS316L)
Female NPT
SB1
SUS316
SUS316
PTFE
Ceramic(SUS316L)
Nemeji Rp
SSM
Same as SS1 ・ With diaphragm damage detection function 2501 type only
SUS tube
SBM
Same as SS1 ・ With diaphragm damage detection function 2501 type only
Female screw Rp
Head Office
1-12-11 Tagawakita, Yodogawa-ku,Osaka
532-0021
Overseas Business Department
TEL +81-6-6301-6460
FAX +81-6-6308-3022