Gamma XL (multi function)
Gamma XL (multi function)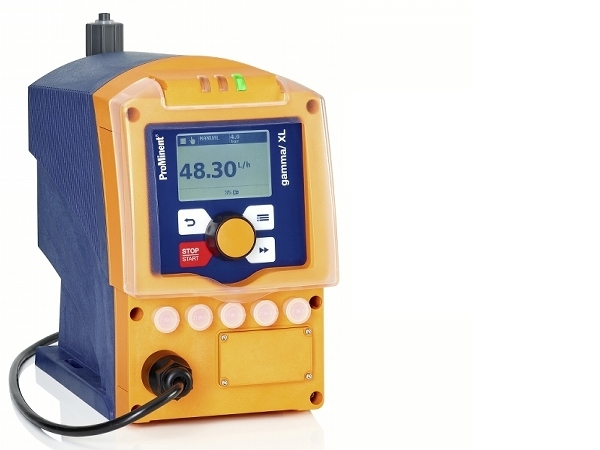 ✔ High-end model with the latest solenoid control technology
 Low pulsation operation & high viscosity operation mode
✔ Maximum 1.33L / min (large flow rate)
✔ Consider safety and environment
 ・ Pressure display function (stops when abnormal)
 ・ Diaphragm damage detection function (optional)
✔ Easy operation of digital display panel and click wheel
✔ Various functions and operation modes are standard equipment
 ・ External interlocking operation
 ・ Manual operation mode
 ・ Digital (pulse) operation mode
 ・ Analog input operation mode
 ・ Timer operation mode
Features
Electromagnetically driven diaphragm type metering pump that has evolved further from the previous model Delta
● Equipped with an "automatic mode" that allows numerical input of discharge amount settings and dispels the conventional concept of stroke length and stroke number settings
● Advanced solenoid control enables optimal stroke speed control according to liquid properties and viscosity
● Intuitive "click wheel" interface inherited from Gamma X
| Problems with conventional metering pumps | | Gamma XL solution |
| --- | --- | --- |
| It is troublesome to adjust the discharge amount, such as setting the stroke length _and the number of strokes individually. | > | "Discharge amount" display _and direct setting of discharge amount can be easily performed. |
| When the flow rate is set to a very small level, the discharge interval is widened _and injection unevenness is likely to occur. | > | Low pulsation mode operation reduces discharge unevenness _and facilitates minute flow rate operation. |
| There was no pump for micro flow rate that was easy to set with boiler chemical injection (high pressure injection). | > | Supports high pressure injection up to 2.5MPa. * Stainless steel head |
Use
● Quantitative injection of various chemicals
● Chemical injection for pH adjustment
● Chlorine drug injection
● Boiler drug injection
● Injection of liquid fertilizer
● Fixed quantity filling
Specification
Maximum discharge rate:0 – 80.0 L/h (0-1,330 mL/min)
Maximum discharge pressure:0.2 – 2.5 MPa
Power supply:100 – 240V 50/60Hz (Power consumption 約78W)
Protection class:IP65 Indoor installation
<Quiet operation>
Quiet operation that cannot be thought of as an electromagnetic metering pump (compared to our company)
<Free suction / discharge waveform with advanced solenoid control>
Reduction of cavitation and pulsation by injecting at a constant speed
Fixed quantity transfer of highly viscous liquid by sucking at low speed
<High economy>
Discharge pressure monitoring is virtually possible from the solenoid load, and safety valves, mixers and air chambers can be omitted.
<Safety features>
Diaphragm damage detection function is available as an option
New function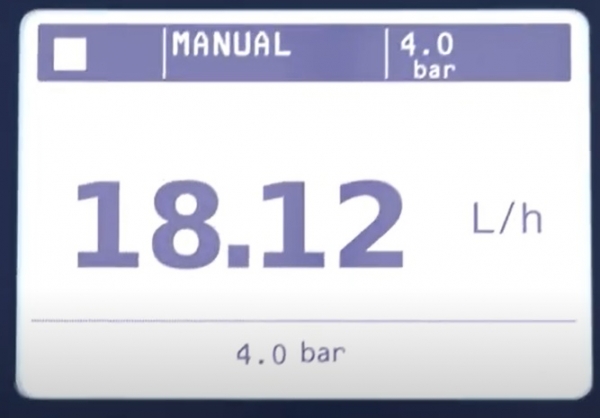 Automatic mode: The required discharge amount can be set directly as "** L / h", and the stroke length and stroke adjustment are automatically adjusted.
Pressure display: Virtually monitor the discharge pressure from the solenoid load. Automatic pump stop when abnormal pressure such as deadline operation
Function
<External signal operation>
Supports pulse signal, analog signal, and remote ON / OFF operation
<Various anomaly detection>
Detects pressure abnormality, gas lock, analog signal input abnormality
Can be connected to a contact output type flow monitor and the flow meter "Dalco Flow" dedicated to metering pumps
<Timer operation>
Automatic operation can be set by day of the week and time of day
Option
<Diaphragm damage detection>
If the diaphragm is damaged during operation, a liquid leak is detected and the pump operation is stopped.
<Relay output>
Alarm relay: Outputs a non-voltage contact signal when an abnormality such as a defective pump or a low liquid level in a chemical tank occurs.
Pacing relay: Outputs a non-voltage contact signal for each diaphragm stroke
Model specifications
Pump size
Maximum
discharge pressure
Maximum
discharge rate
Number
of strokes
Standard
hose / SS
Suction lift
Power
consumption
Mass(kg)
PVT/SST(MPa)
(ml/min)
(L/h)
(spm)
(mm)
(m)
PVT/SST
Standard
2508
1.0
2.5
133.3
8.0
200
– / Outer diameter 6
5
78W
– / 11.0
1608
1.0
1.6
133.3
8.0
200
6×11 / Outer diameter 6
5
78W
10.0 / 11.0
1612
1.0
1.6
200.0
12.0
200
6×11 / Outer diameter 8
6
78W
10.0 / 11.0
1020
1.0
1.0
333.3
20.0
200
8×13.5 / Outer diameter 12
5
78W
10.0 / 11.0
0730
0.7
0.7
500.0
30.0
200
8×13.5 / Outer diameter 12
5
78W
10.0 / 11.0
0450
0.4
0.4
833.3
50.0
200
15×22 / Rp3/8″
3
78W
10.0 / 11.0
0280
0.2
0.2
1,333.3
80.0
200
15×22 / Rp3/8″
2
78W
10.0 / 11.0
High viscosity
PVT4
1608
1.6
1.6
106.6
6.4
200
15×22
No self-sucking
78W
10
1612
1.6
1.6
160.0
9.6
200
15×22
No self-sucking
78W
10
1020
1.0
1.0
267.0
16.0
200
15×22
No self-sucking
78W
10
0730
0.7
0.7
400.0
24.0
200
15×22
No self-sucking
78W
10
Wet contact material
Name
Pump head
Connector
Diaphragm
O-ring
Check ball
Valve spring
(Option)
PVT
PVDF
PVDF
PTFE
PTFE
Ceramic
SUS316L
SST
SUS316L
SUS316L
PTFE
PTFE
Ceramic
SUS316L
Head Office
1-12-11 Tagawakita, Yodogawa-ku,Osaka
532-0021
Overseas Business Department
TEL +81-6-6301-6460
FAX +81-6-6308-3022