Hydro (hydraulic type)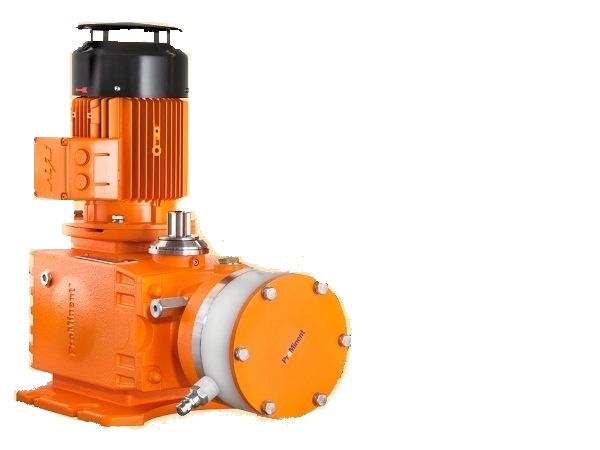 ✔ High pressure, high precision motor driven hydraulic diaphragm type metering pump
✔ Discharge reproduction accuracy ± 1% with stroke adjustment range of 20 to 100%
✔ Diaphragm damage detection sensor installed as standard
Features
Supports discharge pressure up to 10.0MPa with hydraulic diaphragm
In addition to the normal single head type, we have a lineup of double head (boxer) types equipped with two heads.
Furthermore, it is also possible to connect multiple pumps with one motor and operate them at the same time.
In addition, the pump is equipped with a pressure rise avoidance [internal relief] function _and a diaphragm damage detector as standard equipment, which is characterized by high safety.
Use
● Boiler chemical injection (separate cans, additives, etc.)
● Quantitative injection of reaction solutions, catalysts, etc. into chemical processes
Specification
Model specifications
Hydro / 2: Maximum discharge amount 3.0 to 68.0 L / h Maximum discharge pressure 2.5 to 10.0 MPa (maximum 2.5 MPa for PVDF head)
Hydro / 3: Maximum discharge amount 10.0 to 170.0 L / h Maximum discharge pressure 2.5 to 10.0 MPa (Maximum 2.5 MPa for PVDF head)
● Supports single head and double head. Double head is a boxer type that alternately inhales / discharges
● The stroke length of each head can be set independently and the flow rate can be adjusted individually.
Wetting part
● Injection accuracy: Stroke length range 20-100% Reproducibility ± 1% (under the operating conditions specified by the manufacturer)
● There are three types of wetted parts (heads): PVDF type, SUS316Ti type, and Hastelloy C type.
● Diaphragm damage detector standard equipment 3-layer diaphragm
Wet contact material
| Wetting part model | Body | Intake / discharge valve connector | Gaskets Valve seats | Valve ball |
| --- | --- | --- | --- | --- |
| PVT | PVDF | PVDF | PTFE/PTFE | Ceramic |
| SST | SUS316Ti | SUS316 | PTFE/ZrO2 _or SUS | Alumina |
| HCT | Hastelloy C | Hastelloy C | PTFE / Hastelloy | Ceramic |
Drive part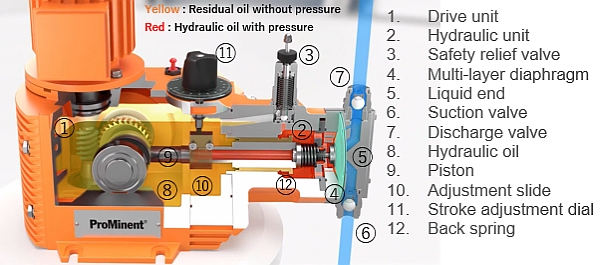 ● Standard motor specifications: 3-phase 200V, 50 / 60Hz 0.4 / 0.75kW (HP2 / HP3) IP44 (outdoor specifications) Class E
● In addition to standard specifications, hydraulic oil can be selected from three types: food grade and low temperature (-25 ° C).
● Equipped with a bypass valve with a pressure adjustment function from the hydraulic section to prevent overload
● Stroke length: 15 mm, adjustable with a resolution of 1%
Head Office
1-12-11 Tagawakita, Yodogawa-ku,Osaka
532-0021
Overseas Business Department
TEL +81-6-6301-6460
FAX +81-6-6308-3022