Manganese sand (for water purification plant)
Manganese sand (for water purification plant)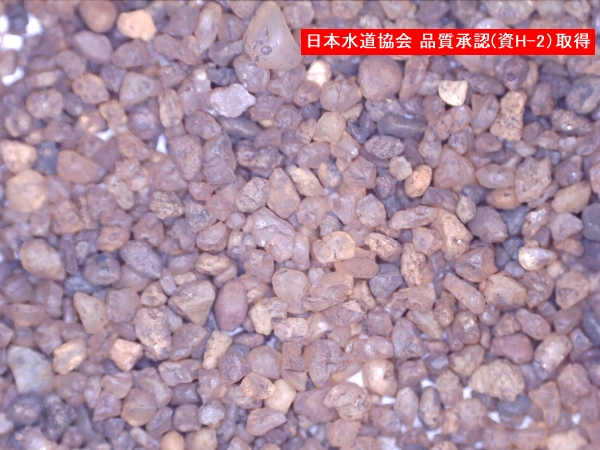 Manganese can be removed from the raw water by injecting chlorine into the raw water containing manganese and bringing it into contact with a filter medium coated with manganese. This uses the autocatalytic action of manganese, and is a method commonly referred to as "removing manganese with manganese." Therefore, in water supply facilities such as water purification plants, manganese sand is used when the manganese content of raw water is high.
Specification
Dimensions / Quality regulations
(JWWA A 103-3:2006-2)
Effective diameter
0.35mm
0.50mm
0.60mm
0.45~0.7mm
Equal coefficient
1.4 less _or 1.5 less
1.7 less
Density
2.58 – 2.65g/cm3
2.57 – 2.67g/cm3
Manganese adhesion
0.5mg / g more
0.3mg / g more
Appearance
Granular
–
Mother
Filtered sand
–
Manganese sand for water supply (JWWA A 103-3: 2006-2) This product conforms to the selection standard.
We also manufacture products with the specified effective diameter and uniformity coefficient upon request.
Please note that the effective diameter includes an error value.
Packing
Packaging unit:PE bag(20L)、Flexible container back( 0.6m3)
* Pallets can be stacked upon request.
When ordering, specify the specifications, quantity, packing style, _and presence / absence of pallets.
If you would like a JWWA certified product, please let us know.
JWWA certified product
For the first time in Japan, it has been certified as a certified factory for all filter media (filter sand, anthracite, manganese sand, filter gravel) in "JWWA A103: 2006-2 Water Filter".
We will contribute to the safe, tough and sustainable water supply business.
* Quality certified products are guaranteed to comply with the Ministry of Health and Welfare Ordinance and JWWA standards.
* Reduce the time and effort of individual quality confirmation by business entities!
* If the pipelines are certified products, the heart of water purification treatment and filter media are also certified products!
Head Office
1-12-11 Tagawakita, Yodogawa-ku,Osaka
532-0021
Overseas Business Department
TEL +81-6-6301-6460
FAX +81-6-6308-3022