Liquid level switch (TL type)
Liquid level switch (TL type)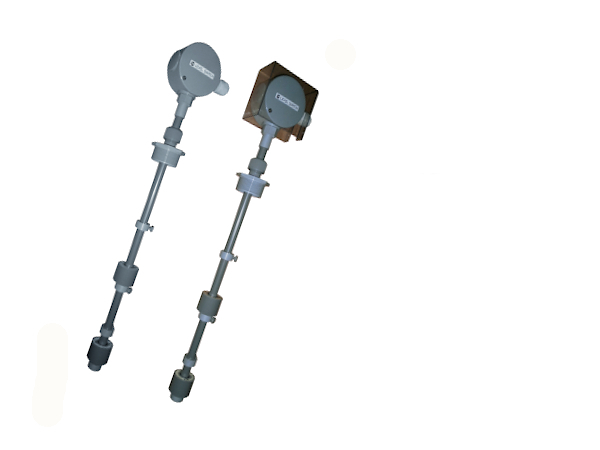 * It can be attached to the top of chemical tank to check the chemical solution level.
* Prevent non-dosing of chemical solution by notifying when to replenish the chemical solution. (prevention of running out chemical solution)
Features
* It can be attached to the top of chemical tank to check the chemical solution level.
* Prevent non-dosing of chemical solution by notifying when to replenish the chemical solution. (prevention of running out chemical solution)
* Prevention of pump dry run.
* There are variety mounting methods with reasonable cost.
* Made of PVC, high chemical resistance.
Principle
A magnet is built in the float and the reed switch is secured in the guide pipe. As the float with a magnet inside goes up and down, the reed switch turns on and off. This system is effective in providing alarms and controlling motors, solenoid valves, etc.
* When controlling motors, solenoid valves, etc. by use of TL, connect and control them through electromagnetic switches and/or auxiliary relays.
specification
Model
TL-1
Operation
No-voltage contact
(100V、0.3A)*1
Mounting method
Connector union(G2) (or flange)
Construction
Drip-proof type*2
Cable outer diameter(mm)
9.1~10.5
Float
φ48×40L
Guide pipe outer diameter
φ18
Contact configuration
Up to 5 points
Allowance pressure
0.1 MPaG
Operating temperature (℃)
0~50
Applications
Multi-purpose
Weight (L=1,200)
Approx.1kg
*1) It is recommendable to use TL with low voltage of 30V or lower.
*2) Cover for outdoor use (option)
Material
PVC (Connector union, Cover for outdoor use, Float, Guide pipe, Float stopper)
Contact configuration
Model / number of contacts
1
2
3
(ID)
TL-1
(Operation method)
HC: ON when level up, HO: OFF when level up, LC: ON
when level down, LO: OFF when revel down
* The standard setting is all LC. The above methods can be
also selected separately
Model configuration
| | | | | | | | | | |
| --- | --- | --- | --- | --- | --- | --- | --- | --- | --- |
| TL | – | 1 | U | – | 1 | / | 0 | – | 50 |
| | | 1 | 2 | – | 3 | | 4 | | 5 |
1.Operation method
1:Non-voltage contact
2.Mounting method
U:2B male screw
F2:50A F JIS 10K(12t)
F3:65A F JIS 10K(12t)
FZ:others
3.Number of contacts
1:1
2:2
3:3
4.Option
O:w/ cover for outdoor use
NIL:w/o cover
5.Tank
50:For our PVC 50L tank
100:For our PVC 100L tank
200:For our PVC 200L tank
500:For our PVC 500L tank
Head Office
1-12-11 Tagawakita, Yodogawa-ku,Osaka
532-0021
Overseas Business Department
TEL +81-6-6301-6460
FAX +81-6-6308-3022