Chemical injection unit (TXS)
Chemical injection unit (TXS)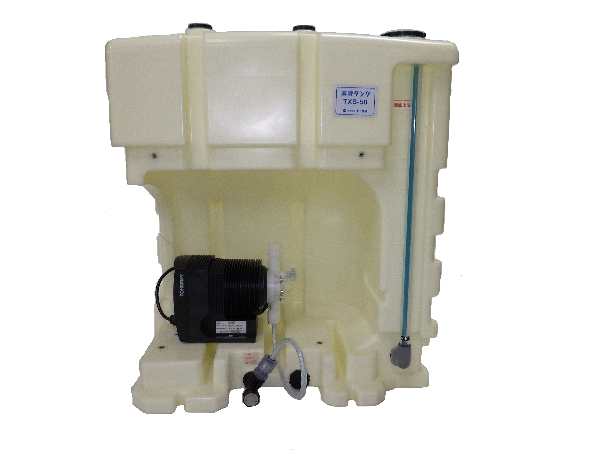 * Made of polyethylene with excellent rigidity and impact resistance
* Equipped with liquid level gauge as standard
Features
The PE tank for the chemical injection unit has been reborn. The TXS series is a compact unit consisting of Tohkemy's electromagnetic pulse pumps and Prominent's electromagnetic pulse pumps, which consist of three series of 25, 50, and 100 types.
Improved convenience
* Equipped with a liquid level gauge as standard equipment
* Two pumps can be installed (50 type, 100 type)
* The capacity has been increased by 20% compared to the past, making replenishment convenient. (Example: In the 50 type, 3 cans of 18L (Ito can) can be put in)
* Equipped with a level switch seat and liquid return seat as standard, no post-processing is required.
* Fixed seat included (25 type 3 places, 50 type, 100 type 4 places)
Improved safety
* Uses a black lid with excellent light resistance.
* Attaching a padlock to the lid prevents the lid from opening easily.
* By tilting the back, liquid does not spill on the front (equipment).
option
* Front cover
* Padlock
* Liquid level gauge with valve
* Level switch (selectable from Tohkemy FS type and TL type)
* Operation panel (Please contact us for operation panel specifications)
specification
Model
Material
capacity
mass
Mountable pump
TXS-25
PE
30L
about 7kg
MP-L _and CM-1 to 25V type pump *
Prominent electromagnetic pulse pump
(Beta _and gamma type)
* CM-V type can be installed only on TXS-50 / 100
TXS-50
60L
about 12kg
TXS-100
120L
about 18kg
* Place the chemical tank so that it is not exposed to direct sunlight, _and use it at an ambient temperature _and liquid temperature of 0 to 40 ° C.
* The specific gravity of the liquid should be 1.3 _or less.
* Cannot be used for liquids that generate gas such as hydrochloric acid.
* See also PVC / PE tanks.
Tank dimensions
unit:mm

Model
A
B
C
TXS-25
430
465
(515)
TXS-50
560
465
(670)
TXS-100
560
575
(805)
System flow
Basic system
This is the most basic _system for injecting medicine simply by supplying power using an electromagnetic pump.
_System with flow monitor _and level switch
This _system adds an optional flow monitor to the MPX type pump that can be directly connected to the level switch to detect defective discharge of chemicals.
The specification to stop the pump when the tank is low level can be selected, _and an alarm signal can be output to the outside when the tank is low level _or the chemical discharge is poor.
Chemical injection _system with conductivity meter
The MPX type pump is controlled by the conductivity meter in a system in which a panel with a built-in conductivity meter is attached to the side of the chemical injection tank. Ideal for supplying liquid fertilizer in hydroponics.
In addition to the conductivity meter, a 24-hour cycle time switch can also be built into the panel. In the cooling tower _system, the blow valve is controlled by the conductivity meter, _and the MP type pump is turned on _and off by the time switch for chemical injection. You can also.
Head Office
1-12-11 Tagawakita, Yodogawa-ku,Osaka
532-0021
Overseas Business Department
TEL +81-6-6301-6460
FAX +81-6-6308-3022